Behind the Scenes 2016 – Saratoga Springs Wedding Photographers
Welcome to our Behind the Scenes blog for the 2016 season! We love what we do and think it's important for everyone to see that not only are the bride & groom having a great time at their wedding, but so are we! We call ourselves the RSP family because we genuinely love each other and love working together! Oh, and if you haven't noticed all of us are completely ridiculous. But Rob always wins the prize for that!
Okay, let's get started! Have fun looking at some of our favorite moments and favorite people to work with! 🙂
—–
It is of upmost importance to get that bowtie looking good for the day! Even if the bride has to help.
Emily using those muscles to block the sun! You go girl!

There is just a whole lot of fabulousness right here. . .no not the ladies. Rob's legs, duh.
Then there are the not so glamorous times. Like when Sarah was standing in for the bride and groom and thought it would be a good time to try juggling a pinecone. And using your body weight to make sure the back of the boat doesn't tip forward on the bride and groom. Little did you know!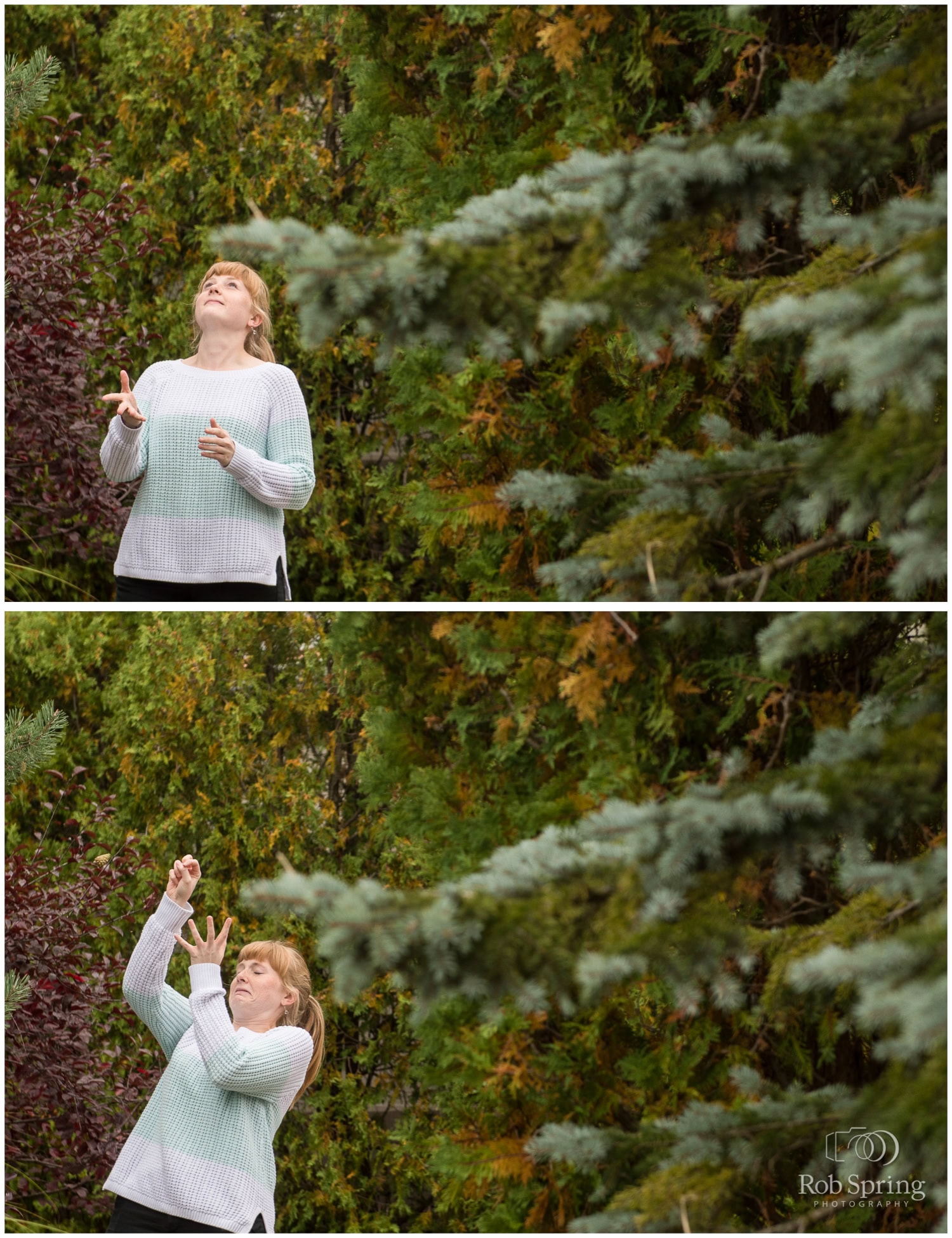 On the sunny days we are pretty happy! And then there was that torrential downpour in Congress Park that one day. . .Poor Rob! But he had to get the shot!
Kayla making sure the bride was covered from the rain! Those reflectors come in handy.
As an assistant you do all sorts of jobs! Mostly the reflector is you best friend but other times you need to get in there and fix fix fix! Sometimes the bride comes in hand with that pesky reflector 😉
Emily is pretty much a veteran reflector holder. We welcomed Vanessa to our team this year as an assistant too!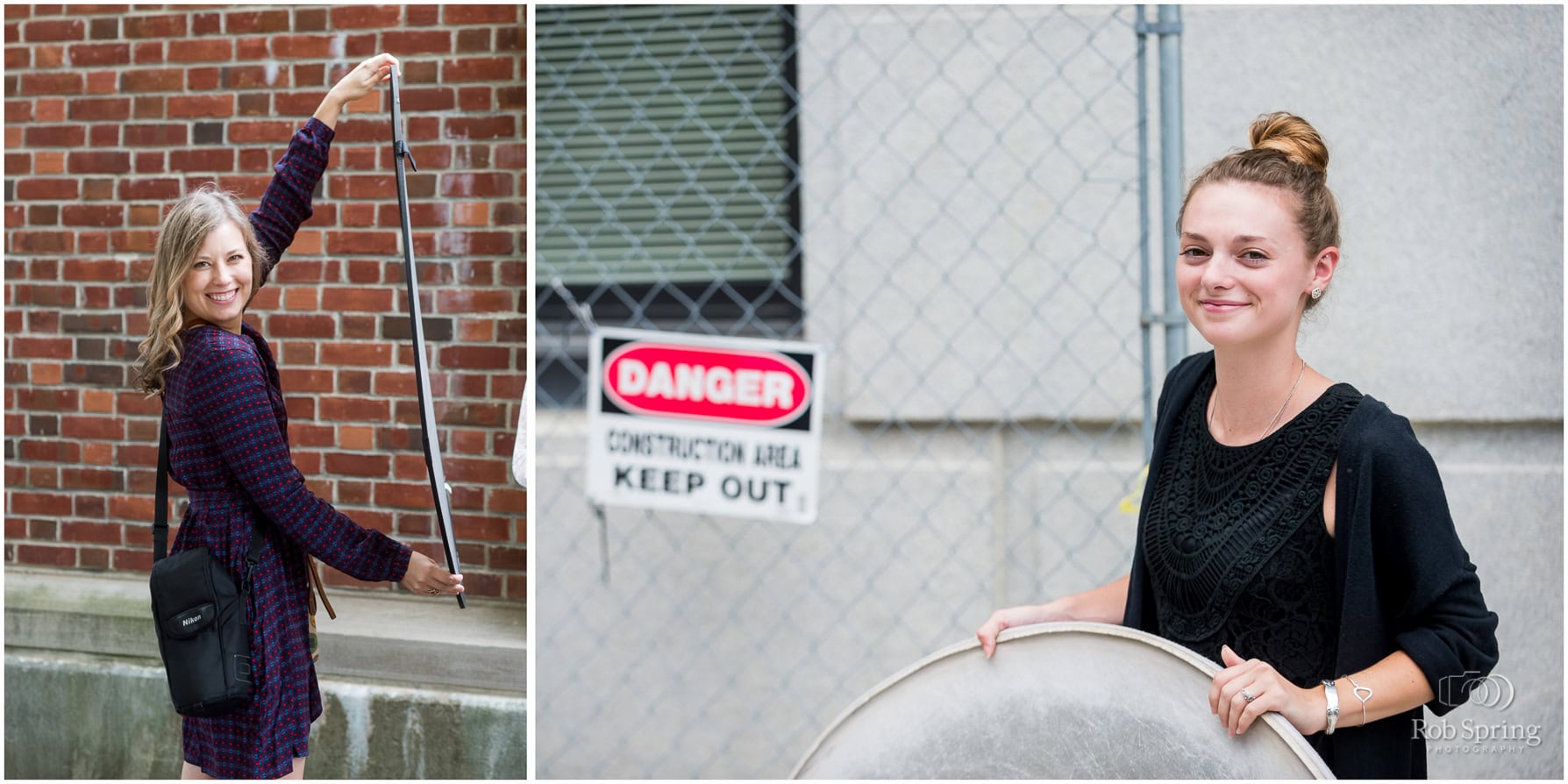 Check out those brows! He means business.
We REALLY enjoy taking selfies. And we know you love seeing our chins. All 5 of them.
Sometimes if Rob and Sarah are both primary shooting we send selfies to each other. One's on a boat and the other one is hanging out with a horse! Now if we could get a horse on a boat, THAT would be a wedding to behold.
Let's take a little break from the RSP team and get some vendors in there. These are just a few favorite moments from the season. We work with SO many amazing vendors all year long.
Mike from CT Productions! Hi there!
Alexis and DJ Vinny goofing around at Erolwest. We had the dream team that day!
Well, Vinny. That's one way to get the family to smile!
Videographers GALORE!! They must have the best arm muscles. And they look so cool while working!
Mackenzie Lee Videography, NuVue Cinema, and Ben Pliss!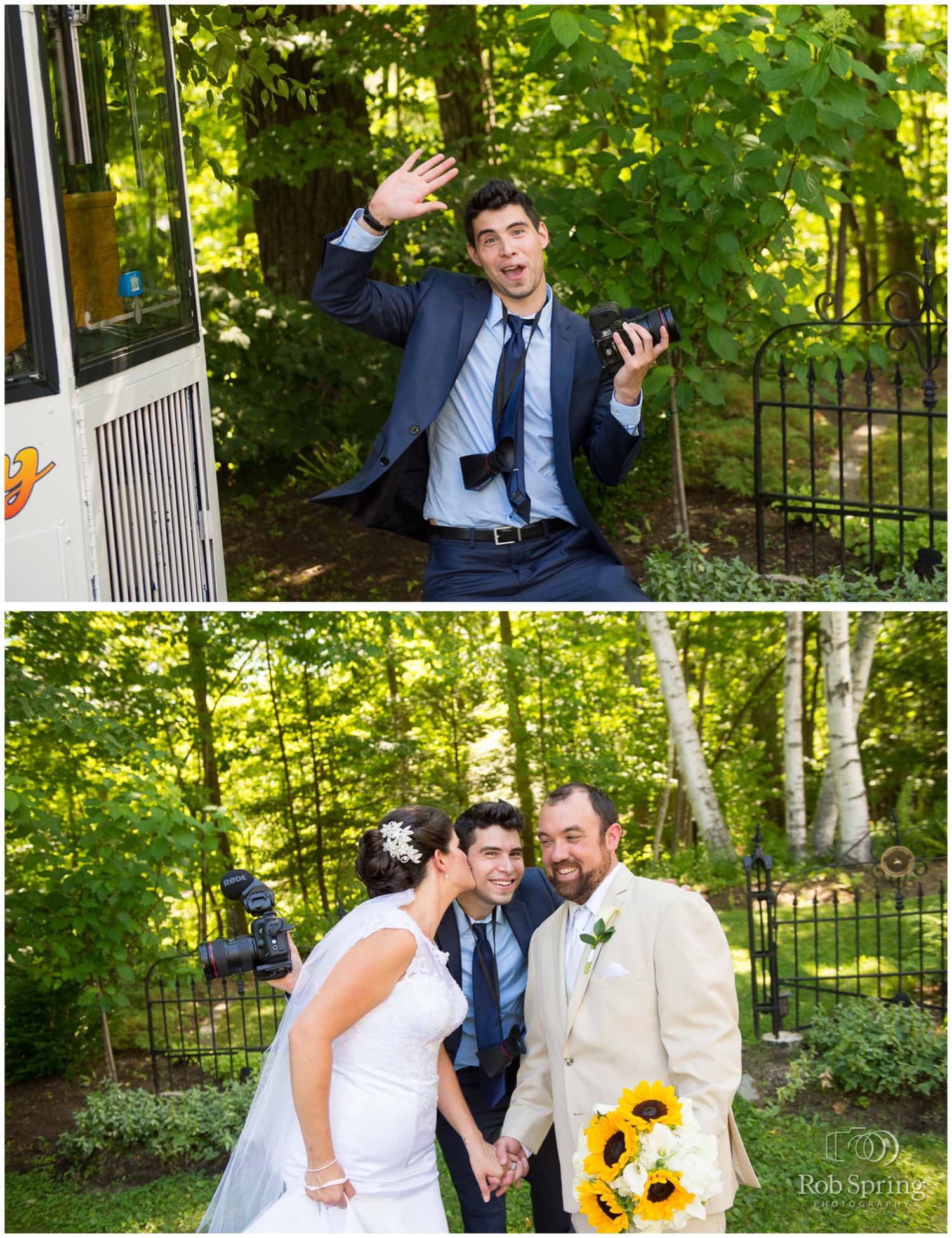 Mike Garrasi of Music Man! Love this guy. This was from our AWESOME New Years wedding at the Hall of Springs this winter.
Dale Himelrick. Sometimes he takes video at your wedding, sometimes he helps you "cut" your cake!
Bride and Groom DJ? Hell yes! And a shout out to the fabulous Erin Muller doing Joanna's make-up!
Amanda Pierce on top who made our fabulous bride Becky SUPER fabulous. And Cassandra McKenna below! 🙂
Sarah of Bisou Weddings! Love love love! She makes our day so organized and fun. Not to mention the bride and grooms day!
And last but not least. Joan of All Occasions. If you want the BEST limo driver ever ask for Joan! And we love when the flowers are delivered from Dehn's Flowers! All the excitement!
Okay now back to Rob being epic at Saratoga National! What a sunset!
Always catching each other mid shot! Kerri joined our team this year as an associate photographer. Damn right she knows how to dress for a winter wedding!
Sarah shooting wide for the ceremony at Saratoga Polo and Stephen being well. . .The King of the Castle at the Casino! Or a gangster. No one will ever know.
Party of 3??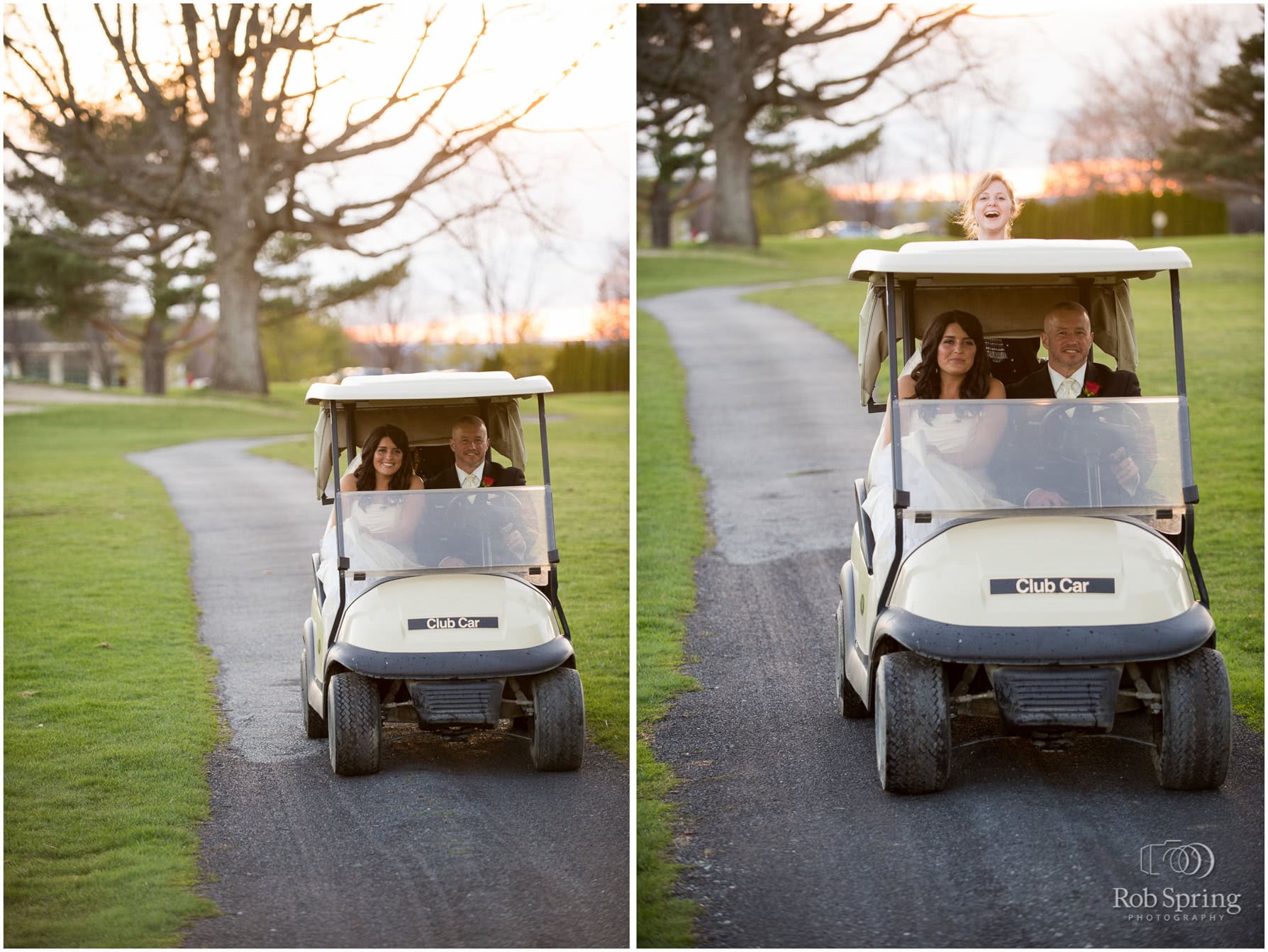 Emily getting that static out!
And helping Rob down a hill!
Emily and Sarah being adorable. If they can't go on a lunch date together, they'll make sure they are working a wedding together! We also are great models for how we want you to stand in a group photo.
Rob's signature "I'll just be down here!"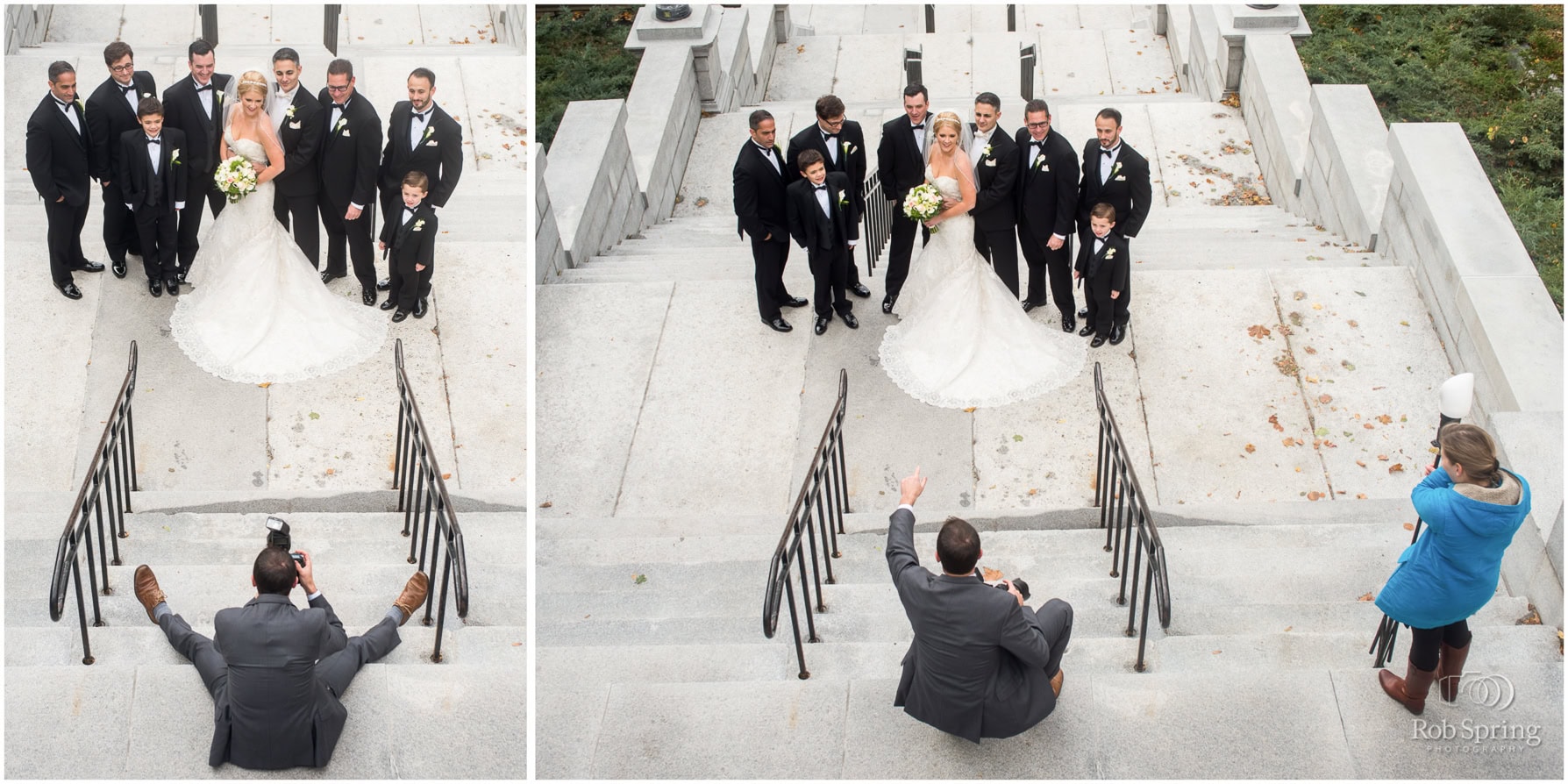 He'll do anything to get the shot! Yes, anything!
Flash stand: Source of light or weapon of mass destruction?
Mitch making sure that flash stand is right where we need it! 
Rob getting a fabulous shot of Allison at the Century house! And Sarah thinking it's a Party of 3 again. Ugh 😉
Sometimes we gotta test out the photo booth!
And last but not least our faithful Editor in Chief, Evie Spring. She's the REAL boss of this whole operation.
We had lots of great times in 2016 but 2016 was also Stephen's last year shooting with RSP. Don't worry he's doing great and living in Boston with his family now but we wanted to do a quick shout out and thank him for so many great years of fun times and great photographs. We'll miss you Stephen! But hey if you're ever in Boston hit him up for a wedding!
So long 2016! Here's to a great 2017!
Comments
comments