What Should I Wear to My Engagement Session?
You're engaged! You've found your venue and set a date! You have picked your photographer and you're ready for your engagement photos! Now what?
Engagement photos are a great time to get to know your photographer even better so that on your wedding day everyone feels comfortable and you are able to be yourself.
The first step is to pick a location that's special to you as a couple. Maybe your favorite downtown brunch spot, the park where you got engaged, a campus of a school you both attended, really anything can work if it is meaningful to you! Our favorite engagement sessions are always with couples who have great chemistry, but locations can help too! Think about who you are as a couple and what you enjoy, what makes you special.
Once you've picked your location you can start thinking about what you're going to wear. Ultimately we want you to look like you on your best day but here are a few other tips!
 1. Let the location of your photo shoot set the stage for your outfits.
If you are shooting in an urban area, go for an urban look and maybe put on those high heels! If you're shooting in a field, play it up by wearing boots with a cute dress or jeans and a top. Have a lake as your backdrop? Go with a nautical feel!
Nicola & Kevin are looking city chic in their urban black and they are making the NYC skyline look great.
Love how Anne and Aaron continued the nautical setting into their look by wearing Sperry's and using pops of color from the sail boats.
Dawn and Greg look relaxed and comfortable for their Lake George session and the bikes add a layer of fun!
Brittani and Mike dressed up for their downtown Albany shoot. I love how Brittani's sequins match the color of the sunset on the windows of the buildings.
 2. Don't match but compliment each other.
If you match perfectly it's going to look like a photo session about you matching. Choose colors in the same color family, or complimentary colors. If one of you are wearing a busy pattern, the other should wear something simpler.
I love how Jeff's sweater picks up the colors in Erica's scarf, and they look great with the fall leaves!
Molly & Pierce look super cute in central park, I love their preppy city look.
Anna and Alex booked an extended session that includes an outfit change. I love how their looks coordinate with each other giving their engagement session gallery a cohesive feel!
 3. Fit – Play up your assets.
See what I did there? Pick a favorite part of your body you'd like to show off and flaunt it. Try to stick to one body part though to avoid turning this into a boudoir shoot, although we do love shooting those too! 😉 If you wear something flowy on top, pair it with tighter pants and vice versa.
White pants are always a great statement piece, love how Hayden rocked them. Did we mention we like white pants? 
Gabby and Nate look so fresh and summery for their downtown Saratoga session. I love Gabby's fun and flirty dress!
Emily's dress really captures sexy summer in the city and I love how she's showing off her back.
 4. Dress Seasonally appropriate.
If you've chosen to do a snowy shoot, embrace it, bundle up and get cozy! Spring shoots can have lots of bright pastel colors. We love warm tones and plaid for the fall. And show some more skin in the summer, bright colors look great!
I love how it feels like we're eavesdropping on a casual winter date night for Annie and Andy. Annie's chunky sweater makes me want to grab a beer and get cozy too, but only if someone can make me laugh like Andy!
Brittany and Marc chose a Lake George camp for their engagement session. I love how they switched into bathing suits and jumped right into the lake!!
Stephanie and Charlie snuggled right into Steph's blanket scarf for their fall session.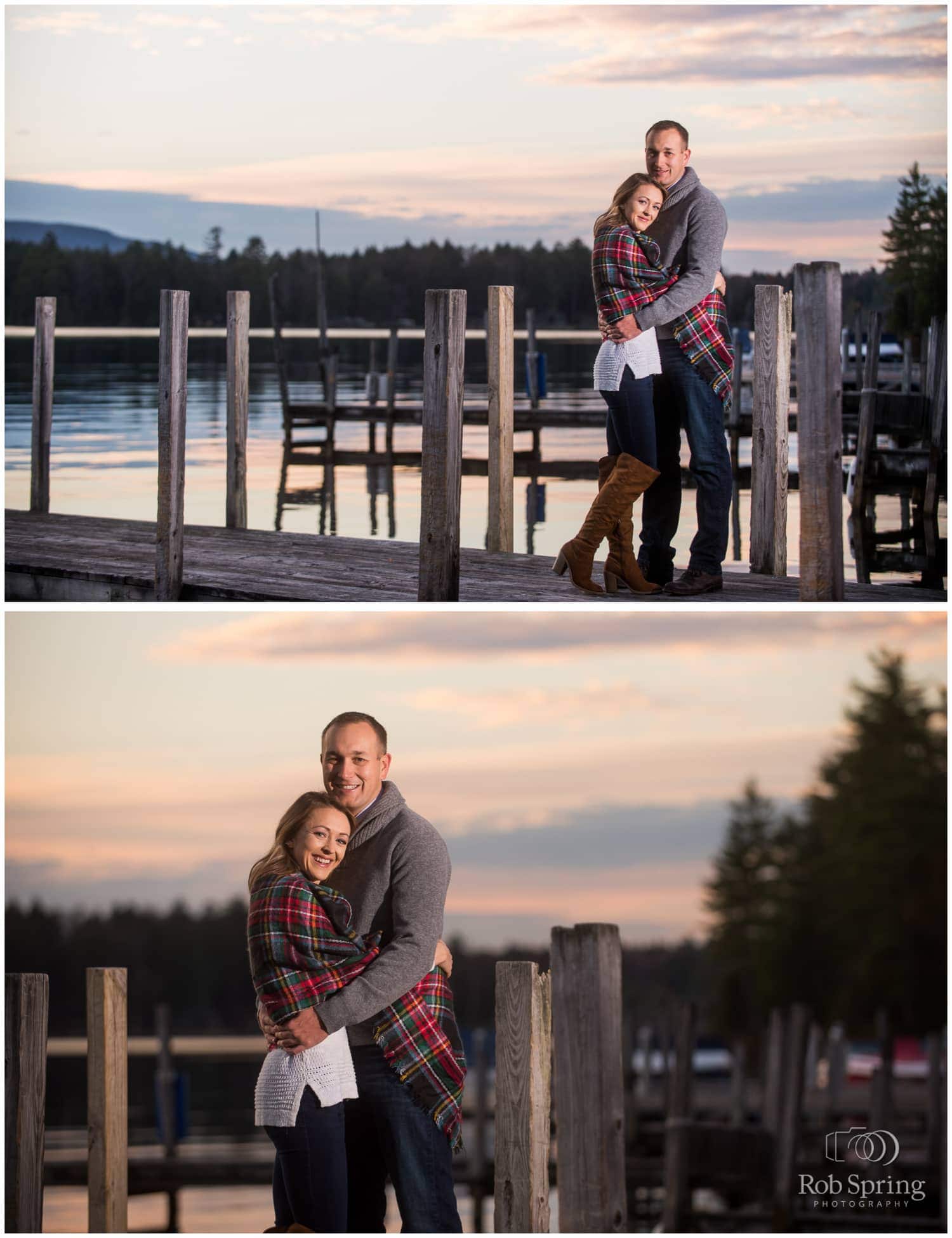 Grace and Jon nailed this winter look with their cable knit sweaters and boots!
Bridget and Mike look awesome in downtown Saratoga, they are bundled up and look cozy for all those snowy kisses!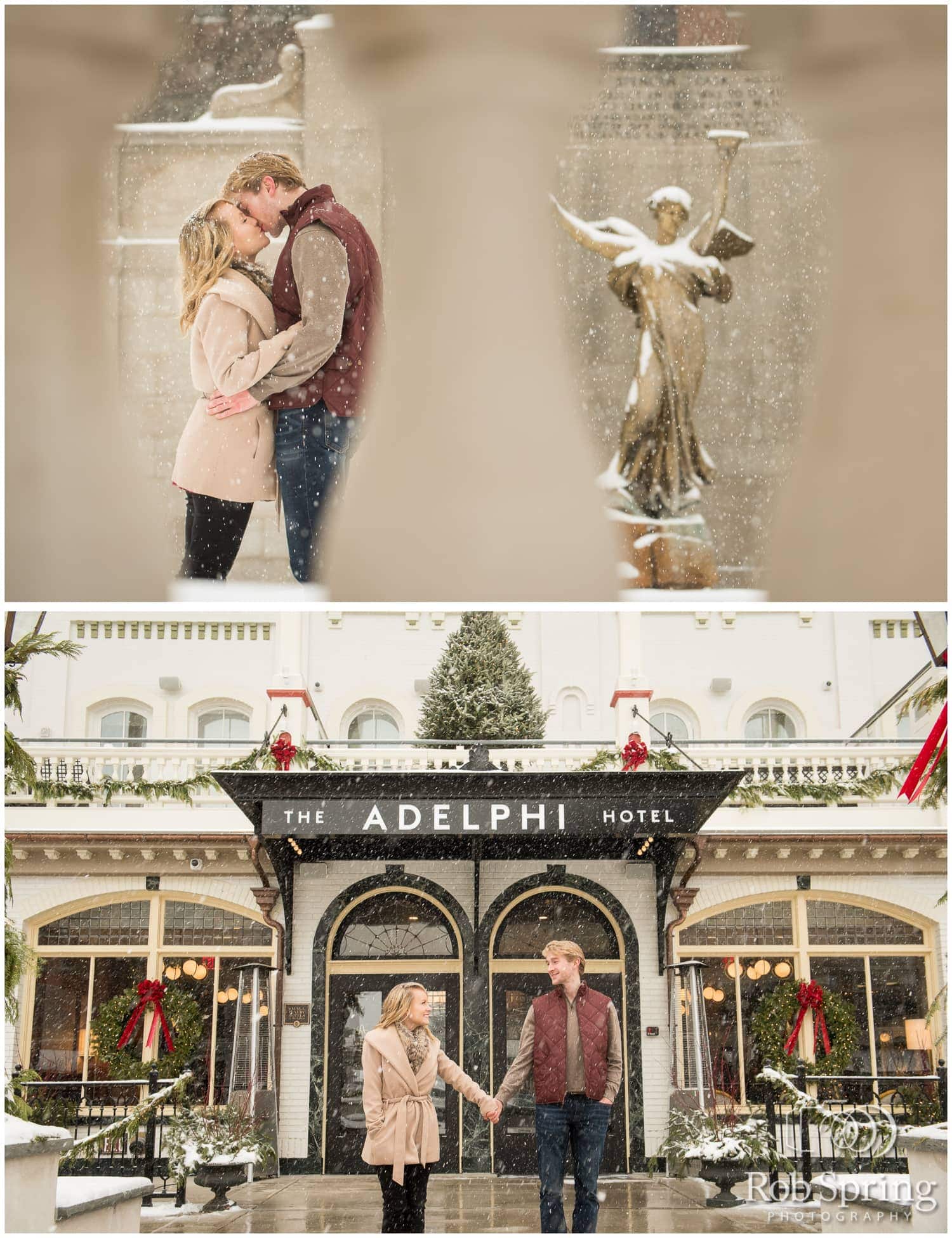 In the end we want to capture YOU. Don't try to be someone else's Pinterest board. Most importantly we want to capture you and how much you love each other. We want to see how you interact and make each other laugh. Wear clothes that you feel great in and make you feel your best. Now let's go shopping!!
-Emily Matthews, Studio Manager/Self Appointed Stylist Extraordinaire
Comments
comments