What To Do If You Are Postponing Your Wedding Due To COVID-19
What should you do if you need to postpone your wedding or if you are unsure if you need to?
Hi everyone! Sarah here! Yes, I said it. You might need to postpone your wedding due to the current circumstances in the world because of the Coronavirus. Although we wish this blog was about sipping some delicious Corona on your original wedding date, alas it is not.
Step 1: DON'T PANIC!
No, seriously. Stop typing that panicky Facebook status, and put down the tissues. It is going to be okay! You've already conquered the feat of planning your wedding, now you just need to exercise those planning skills just a little bit longer. You've got this!
Step 2: Head to the nearest grocery store.
No, not for toilet paper. You know there won't be any in stock. It's time for some ice cream and cake!!! You think I'm joking? Ben and Jerry are going to be the extra help you need during this trying time. And sometimes, they even have a buy one get one free pint sale. Just sayin'.
Step 3: Breathe.
In for 10 seconds, out for 10 seconds. Use your Fitbit to do a relaxation exercise, or download the Calm app. It will be a lifesaver during this stressful time.
Step 4: Contact your vendors.
BEFORE you choose a new date or reschedule your wedding day, PLEASE contact all of your vendors FIRST. Nothing is worse than stressing about having to change your date, and then changing it out of panic and realizing that none of your vendors are available for your new date. Eek! Take a moment and send out an email to all of your vendors letting them know you are considering rescheduling your date. That way we are in the loop and we can send you dates we have available.
We strongly recommend contacting your vendors first, before holding a new date with your venue. Once you have confirmed that your vendors are available, go ahead and book the new date with your venue. Your vendors depend on these events for their livelihood and to take care of their family. We will always do anything we can to help you, and we just ask that you give us the same respect and consideration in return.
Step 5: Get married on a Thursday.
What?! A weekday?! Are you crazy?! Nope. Totally serious. Most, if not all of your vendors, would be thrilled to do your event on a weekday. Especially if it is moving to 2021, because then we can still offer Saturday's to new clients. If all of your vendors Saturday's are chosen by 2020 clients, that means there will be significant losses for most companies because there will be no new revenue for 2021. All the cool kids get married on a Wednesday or Thursday. Really! I did and it was AWESOME. All of my guests still showed up AND they made a 3 day weekend out of it. How fun is that?
Step 6: Book a new date.
Chances are if you were planning to get married in the Summer of 2020, you will need to reschedule your event. We are strongly encouraging our couples to choose a later date in 2020, if it is available at your venue. It is incredibly helpful to all of your vendors to keep your date in 2020, so that there are no significant losses of income. If you do decide to reschedule to 2021, we will totally be there with bells on but again PLEASE ask us before booking a new date to make sure we are available. Each vendor will have different rescheduling rules, so please check with each vendor individually.
Step 7: Sign new contracts with your vendors.
Create a spread sheet or Google doc for yourself so you can check off who you have contacted about your new date. Make sure your vendors create new contracts with your new date and keep those for your records.
Step 8: Notify your guests.
But I just sent out our invitations! We know! It SUCKS. But we've seen some pretty clever examples of how to notify your guests that your date has changed. Send out a cheeky note in the mail, or if you don't have the budget to order all new cards, send out an email or make a post on social media. Oh, and don't read the negative, insensitive comments from Aunt Sally. You were secretly hoping she wouldn't make it to the wedding anyways ;).
Step 9: GET MARRIED ANYWAY!
YES! You can still get married or celebrate your original wedding date (safely, please follow CDC guidelines). One of our May brides, Maria, decided to still do a small ceremony with Zoom guests on their original wedding date. It obviously wasn't the big party they were expecting to have, but in December they are going to party the night away with their family and friends! Here's what Maria had to say about their intimate ceremony on May 2, 2020: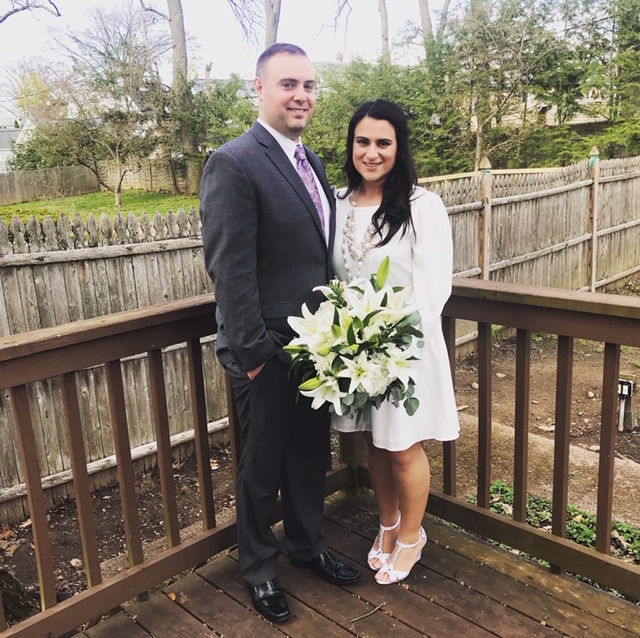 "I haven't met anyone personally that has had to do this (postpone their wedding), so if we can be of any encouragement or voice of reason to have someone 100% do it – DO IT. There's no better feeling than knowing you're going to see your spouse at the other end of the aisle, even if it is just in your living room. We couldn't be happier and just feel so so so good about it!"
Congratulations Maria & Tim! We can't wait to celebrate with you in December!
At the end of the day, it's going to be okay.
Yes, having to postpone your wedding sucks. IT SUCKS. Yell it from a rooftop if it makes you feel better! But, let's put this in to perspective for a minute. By rescheduling your wedding, you are putting your health and the health of your friends and family FIRST. You are essentially saving lives. Yes, this is very difficult on the wedding industry but if you take your time and don't panic, this will turn out well for all of us.
We love you and we are here for you. Send us an email or call anytime if we can help you with your wedding plans!
For additional resources on how to deal with COVID-19 and your wedding plans please head here for some great informational articles.
Comments
comments