Boston State Room Wedding with Sarah & Jason
Love love love Boston! And love love love Sarah & Jason! We had an amazing time photographing Sarah & Jason's wedding at The State Room in Boston last month. I met Sarah years ago at her best friend's wedding and it was so fun to reconnect and see everyone again!! Also – a big shoutout to my great friend and photographer, Stephen Whiting, for meeting me and helping me through the streets of Boston to make this all happen!! (And double shout out to Sarah for letting us walk her all around town in heels with 50 mph winds…) Scroll down to see this amazing day! I'm especially in love with those shots with the Union Oyster House in the background!! Can't shoot in Boston without it.
So glad I was there to capture it, and so glad the sun came out!!
-Rob Spring
Bridal Prep : The Bostonian Hotel    •    Venue : State Room    •    Hair & Makeup : Gloss Hair & Makeup Studio    •    Brides Dress : Madeleine's Daughter
Officiant : Justice Michael E. Capozzi    •    Flowers : Peabody Florist    •    Band : Business Time
Wedding Date : November 3, 2018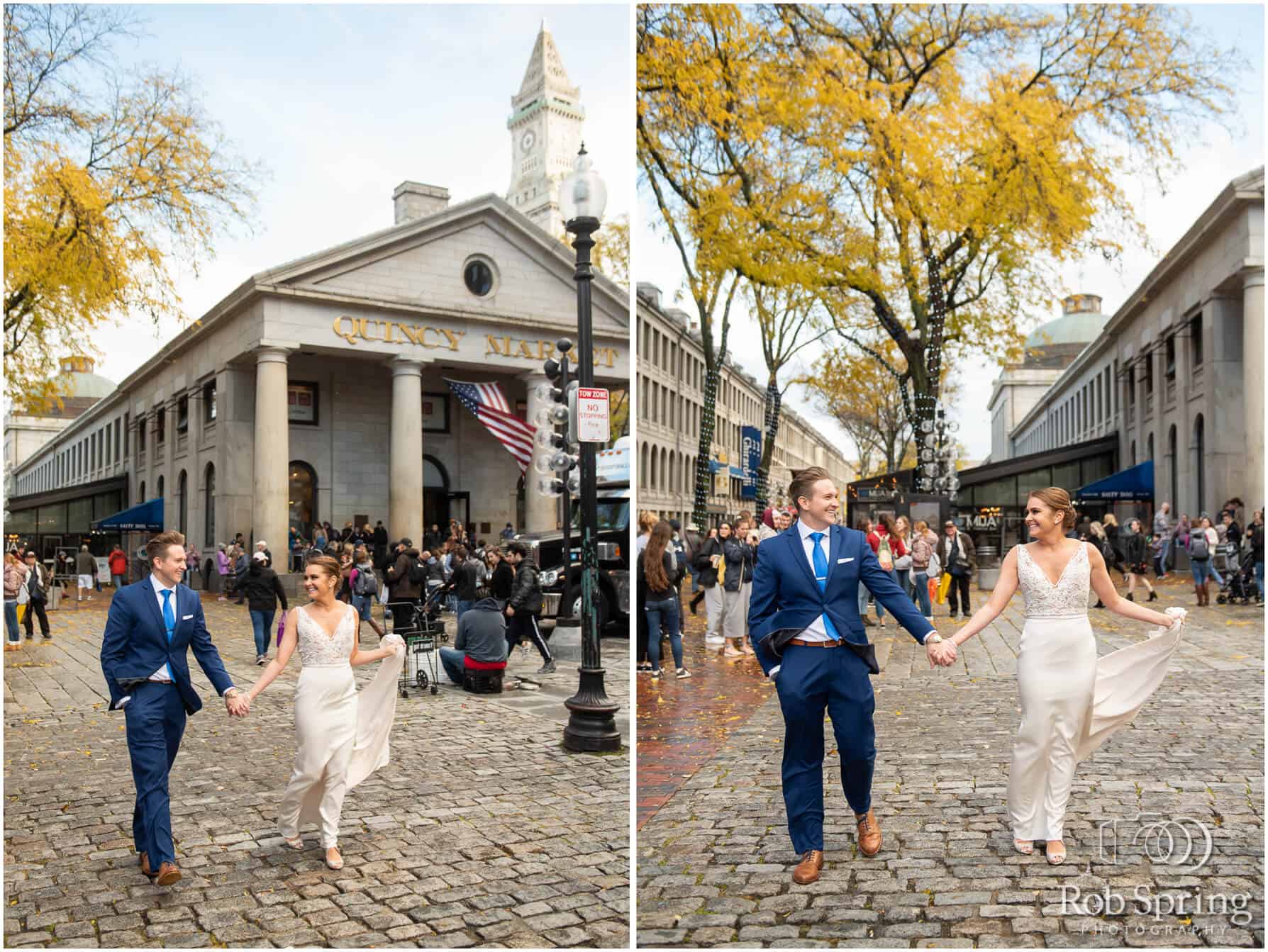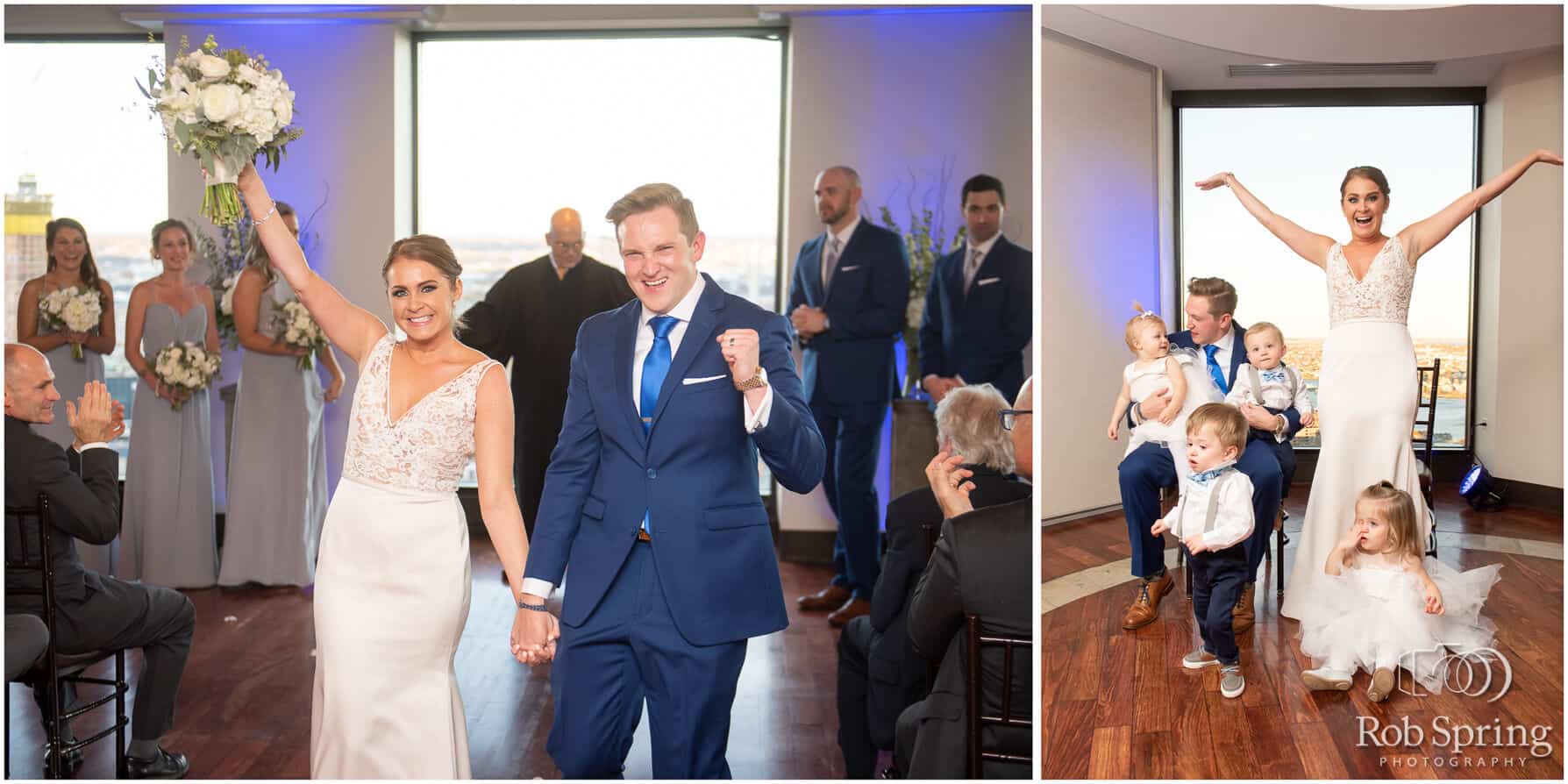 What our Bride had to say . . .
I met Rob in 2013 when he photographed my best friend's wedding. Flash forward a few years later, one of my first thoughts after getting engaged was "I really, REALLY hope Rob is available to photograph our yet-to-planned wedding." Thankfully, he was available, and I soon realized he was even better than I remembered from my friend's wedding. From start to finish, it was easy and fun to work with Rob and his team. He responded to emails quickly, offered suggestions if we were unsure about logistics, and was more than accommodating with making timeline adjustments based on our feedback.
When our wedding day arrived, Rob was ready for us (and brought along an awesome second photographer and assistant that are local to Boston). He went to work immediately, capturing the details, candids, and everything in between. His fun personality put everyone at ease. He was even our designated weatherman and checked the weather radars throughout the afternoon so that we could time outdoor photos around the intermittent rain and crazy Boston winds. Rob was full of great ideas to get amazing photos, from locations to poses to finding that perfect light. My husband and I are pretty awkward in photos at baseline, and Rob was able to help us feel more comfortable and ease our nerves so we could get incredible shots. Not once on our wedding day did we have to wonder "where the heck is Rob?" He was always hard at work, getting the photos we requested on our info form and the photos we hadn't even thought of. Our families and friends raved about Rob's work ethic and how he was constantly scoping the ceremony/reception to capture moments inconspicuously — some of our favorite photos are the seemingly random shots he took of our guests that truly captured the emotions of the day. Once the wedding was over, we received a much appreciated sneak peek less than two days after the wedding, and the complete set of edited photos was delivered well before the estimated timeline he gave us with the sneak peek. The final photos exceeded our expectations by far, and we cannot wait to finally hang up some worthy photos on our empty walls. Rob also sent photos to our other vendors without the vendors having to request them, which just reinforces what a true professional he is.
If you are looking for an amazingly talented, hard working, professional, FUN photographer (with a pretty stellar bowtie collection), look no further than Rob Spring! We could not have had anyone better than Rob and are so grateful for everything that he did to capture our wedding day!
Comments
comments